Healthy Chocolate®Fair Trade Certified™, Non-GMO Project Verified & organic ingredients.

Every ingredient we choose for our indulgent dark chocolates is, for us, a labor of love. Supplement ingredients are chosen with purpose to maximize your experience of the chocolate as well as the specific health benefits.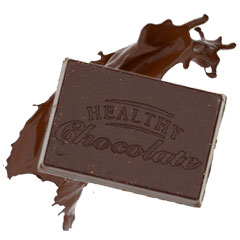 Cocoa Liquor – Fair Trade Certified™, Organic and Non-GMO Project Verified
After the cocoa beans are fermented and roasted they are shelled and ground. The result of this is a dark brown aromatic liquid that becomes solid at room temperature. This substance is called "Cocoa Liquor." It is worthwhile mentioning that it has no alcohol in it. Cocoa Liquor is the basic ingredient for all cocoa products, and is the substance from which Cocoa Butter and Cocoa Powder are derived. We only use un-alkalized Cocoa Liquor, hence maintaining its anti-oxidant and nutritional value at maximum.
Cocoa Butter – Fair Trade Certified™, Organic and Non-GMO Project Verified
Cocoa Liquor contains 45% – 55% of fat. When pressed through a filter, this polyunsaturated healthy fat separates from the solids. The fat is called "Cocoa Butter" while the remaining solids become cocoa powder. Not all fats are created equal. Current evidence based scientific research shows that the total fat in the diet is less important than the type of fat. Polyunsaturated fats (high quality fatty acids) are the desirable dietary. Recently the FDA released guidelines increaseing the Daily Recommended Value (DRV) from 65g a day to 78g for total fat.
Xylitol – Birch Trees with Sustainable Forestry
A sugar alcohol, Xylitol is the nearest in chemical composition to Glucose (Xylitol – C5H12O5; Glucose C6H12O6). It is a naturally occurring substance in the body. It appears in the form of white crystal very much like sugars. Unlike other sugar alcohols, Xylitol does not load the liver. Some of the natural benefits of Xylitol are its ability to retard tooth decay, bacteria, and viruses. It has a low glycemic index (7-13) thus it does not increase blood sugar levels. It can penetrate the cell membrane without needing the aid of insulin, and once inside the cell it is converted to glucose and used as an energy source. This is very important to people that suffer from insulin resistance such as Diabetics, pre-diabetics and persons with Metabolic Syndrome. Xylitol has been identified for over a century and its applications have increased in the last decade. We use it in our proprietary manufacturing process as a bulking agent instead of sugar. Xylitol is what gives our products its "Chocolaty" texture. The xylitol that we use is made in the USA.
Organic Sunflower Lecithin
An Emulsifier extracted from Sunflower that represents an allergen free alternative. This is an important ingredient to consider since emulsifiers are widely used in the manufacture of chocolate and being soybean lecithin the most commonly used. Soybeans are well-recognized as allergenic foods thus soy is included in the list of the 8 major food allergens (list stablished by the FDA) as well as other documented adverse effects on specific individuals.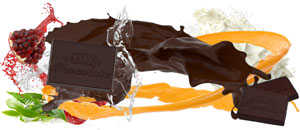 Some of the Amazing Ingredients You'll Find in Our Various Chocolates

Bitter Melon: Also known as "Momordica Charantia". There are many studies on the numerous benefits of this tropical herb. The Chinese pickle its fruit and have it with their meals. In China it has been used to treat diabetes for many generations. We use it in CHOCOWellness® for its ability to regulate blood sugar levels.
Found in: CHOCOWellness® Slimming Chocolate Supplement
Noni: An Indian fruit (Indian Mulberry) that is believed to have some medicinal qualities. It is definitely proven to be very high in nutrients and a strong anti-oxidant. We found that Noni works very well with Momordica to enhance its effect.
Found in: CHOCOWellness® Slimming Chocolate Supplement
Ellagic Acid: Extracted from Pomegranates it is one of the best anti-oxidants known to man. It gives to the CHOCOWellness product a fruity flavor, and helps extend its shelf life.
Found in: CHOCOWellness® Slimming Chocolate Supplement
Green Tea: The benefits of green tea are well documented. With Cocoa it seems to enhance the appetite control capabilities of Cocoa.
Found in: CHOCOWellness® Slimming Chocolate Supplement
White Kidney Bean: Fava bean is extracted from this bean and it is believed to slow down the absorption of sugar and carbohydrates in general, into the blood stream.
Found in: CHOCOWellness® Slimming Chocolate Supplement
Coenzyme Q10: Known also as CoQ10 as an abbreviated form, it is one of the most studied and beneficial active ingredients in health maintenance. Consumers recognize its benefits. Mass-market consumers often compare products based on the total amount of CoQ10 per dose, while not taking into account the issue of bioavailability. CoQ10 is poorly absorbed for two primary reasons: CoQ10 molecules occur naturally in crystals, bound to each other in a form that is too large for cells to absorb. CoQ10 is also fat-soluble, and is relatively difficult to transport through the digestive system as compared to molecules that are water-soluble. The healthy fat environment in our chocolate platform makes it an ideal delivery platform that provides for greater absorption and bioavailability.
Found in: ChocoCoQ10® Chocolate Supplement
Bacillus coagulans: It is a probiotic, a "good gut bacteria". We specifically use GanedenBC30® developed by Ganeden Biotech which obtained FDA GRAS STATUS and is supported by over 20 published clinical studies. It is effective in surviving most manufacturing processes and it has been shown to support the digestive and immune systems. Tests performed in our final product show that probiotic remains active after the time of manufacture.
Found in: CHOCOBiotics® Probiotic Chocolate
Disclaimer: The material in this document reflect only the opinion of the author, and thus they do not constitute a claim. For validating data one is encourage seeking sources that contain scientific information. One such resource is http://www.naturalstandards.org